Memphis, Tennessee is situated on a bluff overlooking the Mississippi River at the western border of Tennessee. the city lies above the apex of a mighty river delta.

The weather is usually very pleasant in the spring and fall. Temperatures can become quite hot and unpleasant during mid-summer. Winters are usually mild and snowfall is rare.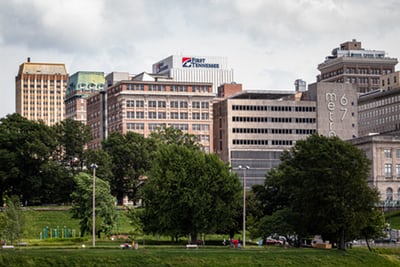 Put on your blue suede shoes and drop on in. Whether it is the strains of the Blues calling to your ears, the smell of old fashioned Southern barbecue calling to your nose, or the myriad sights that catch your eye, there is something unique about the city of Memphis. Visitors are welcomed to this heritage-rich city located on the banks of the mighty Mississippi River with typical Southern hospitality. If you stay for a week or two, you may never want to go home.

If it's music that you are interested in, you won't find any place with a richer heritage. Birthplace of both rock 'n roll and the blues, Memphis lays greater claim to shaping the music of the 20th century than any other city in the nation. Memphis is home to blues notables such as B.B. King and the late W.C. Handy, as well as rock 'n roll pioneer Elvis Presley.

Visitors to Memphis can drop in and see the home of Handy, located on famous Beale Street. From his humble home, now a museum dedicated to his life and career, you can take a short walk through the entire Beale Street Historic District. Various restaurants and nightclubs mix a bit of the old and new, serving the latest in both international and local cuisines, while live musicians often play music reminiscent of the great masters of the Blues.

Whether you are a music buff or not, no visit to Memphis would be complete without a visit to Graceland, the home of the late Elvis Presley, otherwise known as "The King". While it is filled with memorabilia from his career, Graceland also houses items from Elvis' personal life, including his famous pink Cadillac and his personal jet.

If your trip to Memphis includes some of the smaller members of your family, perhaps entertainment that is a little more active might be in order. If that's the case, don't forget to check out such sites as Libertyland, the Memphis Zoo, and the Children's Museum of Memphis. Visitors to Libertyland can take a roller coaster ride such as the Kamikaze, or less daring rides such as the Sea Dragon or Log Flume. The Memphis Zoo offers visitors the chance to see hundreds of species represented by several thousand animals, while the Children's Museum is focused entirely at entertaining and educating young minds.
Memphis also offers visitors the chance to delve into its rich cultural heritage. One can take a ride down the Mississippi River on a beautifully restored paddlewheel riverboat, tour early 19th century homes, or explore one of several museums. Visitors can relax by taking a stroll through the beautiful Memphis Botanic Gardens, then learn a little about the history of our country in the National Civil Rights Museum.

After a day of being out on the town, browsing through museums, or taking in the picturesque countryside nearby, a visit to the Beale Street Historic District or the Overton Square Entertainment District is probably in order. Relax and enjoy an incredible meal and take in a live music or comedy performance, then browse through the amazing array of stores, shops, and boutiques present at both locations.

As you can see, the city of Memphis offers a little of something for everyone. Whether your interest is in family fun, cultural history, or simply sitting back and enjoying a fine meal and incredible music, this bustling metropolis located right on the banks of the Mississippi River has it all.
Search for your Hotel
Choose your lodging below
Select your Accommodations below.
Hotel Reservations by hotelroomdirectory.com © Copyright 2006
Best Value Hotel Rooms