Lisbon, Portugal is the capital and largest city of Portugal. It is located in the west of the country, on the Atlantic Ocean coast at the point where the river Tagus flows into the Atlantic Ocean.
Lisbon is one of the warmest European capitals. Spring and summer months are usually sunny with maximum temperatures close to or above 30 °C during July and August and lows between 15 and 20 °C. Lisbon's climate is strongly influenced by the Gulf Stream.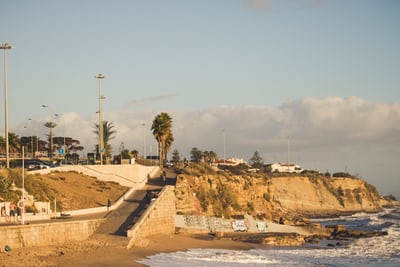 Lisbon (Lisboa in Portuguese) is an enchanting travel destination. The city is built on seven hills that rise from the north bank of the Tagus (Tejo) River. Its coastal suburbs overlook the sparkling sea. Lisbon is a city of contrasts. Though delightfully informal, it is the political, economic and cultural center of Portugal and has a population in city and suburbs of over two million. Lisbon has been the capital of Portugal since 1255. It is located on the Atlantic coast in the southwest part of the country. The Tagus River runs through the valley below the hills on which Lisbon is situated.
Lisbon boasts one of the finest subway, bus and train systems anywhere, yet the local favorite is the Electrico. This is a system of antique trolley cars built in the style of days gone by. The cars are beautifully lined with wood panels, insulating them from the intense summer heat. One of the most popular trolley lines is number 28 which goes across the entire city, a trip that necessitates rolling around steep turns and up and down hills in roller coaster fashion. Though Electrico operates consistently at a loss, city residents wouldn't hear of discontinuing it!
Sightseeing, surfing, sunbathing, golf, soccer matches, shopping, open air concerts and fado folk music are all part of the charm and vitality of this spirited city. The capital provides ample opportunity for seeing popular celebrations, for shopping, and for enjoying the nightlife along the river banks. Not far from the city lies the town of Sintra.. There, a horse-drawn carriage ride through streets lined with majestic trees and lush vegetation passes by ancient mansions on the way to the Palácio da Pena at the top of the hill. Its fabulous romantic architecture keeps vivid the atmosphere of a truly royal residence.
Deals on Hotels, Appartments, Resorts, Villas, B &amp B, and Guest Houses
Hotel Deals
Apartments
Visit for Hotel Deals
B &amp B Deals
Guest Houses
Visit for Hotel Deals