Cincinnati, Ohio is a city in southwestern Ohio, United States that lies on the Ohio River.

Cincinnati's weather is temperate and seasonal. Summers are hot and humid with cool evenings. The wettest seasons are the spring and summer, although rainfall is fairly constant all year round. During the winter, particularly in January and February, several days of snow can be expected.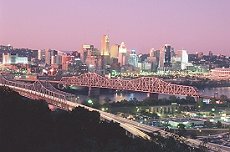 Cincinnati, Ohio is a center of history and of fun. Located on the Ohio River, Cincinnati has been a prosperous town ever since its founding as a trading post in 1788. The Queen City shows off its diversity by scheduling a variety of events throughout the year. Traveling exhibitions at the Cincinnati Art Museum and performances by the Cincinnati Opera bring culture to the city, while the Cincinnati Reds and Bengals offer seasonal games for baseball and football fans. Beer, wine, music and dance festivals round out the eclectic calendar.

Outdoor activities abound in this family-friendly city. The Cincinnati Zoo and Botanical Garden is a favorite destination for locals and visitors alike. In addition, Public Landing is a mile-long riverside walk featuring views of carefully painted showboats and other river craft that recall the city's bustling days of river commerce. For the true outdoors enthusiast, Surf Cincinnati Waterpark offers visitors, several water slides, miniature golf courses, boat rides and go-cart racing.

Walkways and skywalks connect the sports stadiums on the riverfront to a vibrant business district, making it possible to dine, shop, see a game, and hit the clubs all without leaving downtown. Fountain Square, with its graceful Tyler Davidson Genius of Water fountain, is surrounded by office buildings full of shops, restaurants and bars. A few blocks north are the elegant brick buildings of Over-the-Rhine, a former German enclave that's now the place to go for live music and trendy clubs.

Cincinnati is proud of its artistic heritage and history. At the top of Mount Adams sits the Cincinnati Art Museum, a Romanesque-style building with eighty-eight galleries, displaying some eighty thousand works of art dating back 6000 years. Its treasured art and artifacts collection covers 5,000 years of art history and includes an impressive collection of art from the Near and Far East, Africa, Europe, and America. Not just paintings and sculpture are displayed, but also finely crafted furniture (many pieces crafted in Cincinnati), porcelain, glassware, costumes, and ceramics.

In May of 2003, the Lois & Richard Rosenthal Center for Contemporary Art opened in downtown Cincinnati, replacing a much smaller gallery that had been located over a drugstore for many years. The new space is an impressive building of geometric shapes and walls of glass that is an ideal showcase for what the Contemporary Arts Center refers to as "the art of the last five minutes." The art is ever changing and always fascinating. New and noteworthy developments in painting, sculpture, photography, architecture, performance art, and new media all find there way into the museum's remarkable exhibits.

The Taft Museum, a small, exquisite museum housed in a mansion built in 1820, has reopened after a twenty-two million dollar renovation. It exhibits stunning paintings by Rembrandt, Goya and Turner, as well as priceless Ming porcelains. The Museum Center at Union Terminal is entered through the original ten-story high rotunda which retains carefully restored rail terminal signs and symbols from its glorious past. It now houses a collection of museums including The
Cinergy of Children's Museum, The Museum of Natural History and Science, the Cincinnati History Museum, and an Omnimax Theater.

Northern Kentucky is just a bridge away from downtown and offers almost as many attractions as Cincinnati. One of the bridges, the John A. Roebling Suspension Bridge, is itself worth a look—it was the prototype for New York City's Brooklyn Bridge.

Cincinnati encompasses several neighborhoods, each with its own ambience. You may want to allow some time to drive through the city's historic neighborhoods. Just north of downtown is Over-the-Rhine, an old German area whose steep streets are lined with brick row houses, many of which have been renovated. The area includes the Main Street Entertainment District, where you'll find art galleries and nightclubs. The West End contains the city's best-preserved collection of Italianate homes. Mount Adams overlooks the Ohio River, offering spectacular views, as well as lively nightspots. Clifton (home of the University of Cincinnati), Hyde Park and Mount Lookout are known for their distinctive homes on heavily wooded lots and their town square-style shopping districts.

Cincinnati has fine German restaurants, as well as excellent Italian and French cuisine. Be prepared to dine in some unusual surroundings. You'll find restaurants in a former police station, a pottery factory (where you can eat in a kiln), a general store and a saloon.

It is its very diversity that makes Cincinnati a popular destination. For a small city (only the third-largest in Ohio), it has an impressive array of museums, performing arts venues, galleries, fine dining restaurants, festivals, shopping areas, and sports arenas. It also has the Cincinnati Reds, the oldest professional baseball team in the U.S. All of this helps explain why more than 5 million people visit Cincinnati each year.
Search for your Hotel
Choose your lodging below
Select your Accommodations below.
Hotel Reservations by hotelroomdirectory.com © Copyright 2006
Best Value Hotel Rooms