Branson, Missouri is a popular US attraction that is not very well known to foreign visitors. It is a family oriented vacation resort in the midlands of the USA that has become the "music theater capitol of the world."

Branson, Missouri is known today as the "live music capital of the world" but it has a rich history dating back to its first days in the 1800's.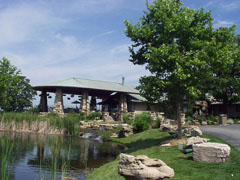 Surrounded by pristine lakes and framed by majestic mountains, the beautiful wooded region of the Ozarks known as Branson, Missouri, offers great fishing, swimming, golf and boating along with big time family entertainment. Branson attracts millions of visitors each year, primarily families and retirees, and has become an increasingly popular destination choice for vacationers from around the world. Not only is it home to some of the best names in entertainment, such as Dolly Parton's Dixie Stampede, the Showboat Belle and the Scenic Railroad; it also boasts unique attractions such as a hot air balloon ride over the city.

Branson offers four individual seasons with summer being the busiest. Each season has something to offer, making any visit memorable. One must-see popular attraction is the Dolly Parton Dixie Stampede. Designed by Dolly herself, it offers a great show with music and entertainment, great family fun as well as a good hometown meal. Many attractions in the Branson area close in winter, but those that remain open are often less crowded then.

If adventure is more to your liking, why not consider a hot air balloon ride above the city? It's truly a unique experience and one that will be remembered for a lifetime. Day or night, there is always something taking place in Branson. Hand clapping, foot stomping, laughter-filled shows are a mainstay of Branson, and there are over 70 of them from which to choose.

One can select from patriotic American music, magic, country music, oldies, gospel, bluegrass, family variety shows, comedy, acrobatics and many, many, more. The choice is yours. Overall, the town targets its offerings to its core audience of families and seniors and will most appeal to those seeking a wholesome atmosphere and middle-of-the-road entertainment. No matter what type or style of family centered show interests you, Branson has it.
In Branson, many of the noteworthy sights and attractions combine elements of Ozarks history and culture with modern technology. Silver Dollar City, for example, preserves the culture of the Ozarks through musical presentations, crafts demonstrations, storytelling and conservation efforts. The region's past is also the focus of the Shepherd of the Hills Homestead and Outdoor Theatre, a theme park and dramatic production based on Harold Bell Wright's novel set in the Ozarks at the turn of the 20th century.

The signature film at Branson's IMAX Entertainment Complex, Ozarks Legacy and Legend, has a historical component, telling the story of a fictional Ozarks family during the period 1824-1950. The Ralph Foster Museum at College of the Ozarks contains a wide variety of items representing the Ozarks' heritage.

With its hometown feel, great entertainment and beautiful scenery, Branson is truly a vacationer's paradise. So, pack your bags and "come a visitin". Branson is waiting with a friendly hello, a multitude of sights, attractions, great food, warm hospitality, great scenery as well as some of the most enjoyable entertainment found anywhere.
Search for your Hotel
Choose your lodging below
Select your Accommodations below.
Hotel Reservations by hotelroomdirectory.com © Copyright 2006
Best Value Hotel Rooms