Cocoa Beach, Florida is an hour's drive east of Orlando on Florida's beautiful Space Coast.

The tropical climate and exotic landscapes of Cocoa Beach offer endless ways to enjoy recreation and leisure on the six-mile stretch of white, sandy beach. Just six miles long and mostly less than one mile wide, Cocoa Beach is located on a barrier island with ocean beachfront running the entire length of its city limits.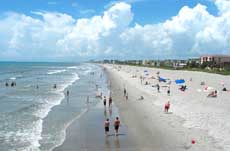 3----2-----1-----Liftoff! We have liftoff! These familiar words and a roar that will take your breath away can be heard in this small east coast Florida town located near the Kennedy Space Center. What better way to see technology in action then to experience the liftoff of a space shuttle? Cocoa Beach offers this possibility and a whole lot more.

Located on Merritt Island, a barrier island nestled between the great Atlantic Ocean and the Banana River Lagoon on Florida's central east coast, Cocoa Beach continues to link the birth of the Space Age with the wonders of the future. Orlando is only an hour away and can further enhance a vacation in the Sunshine State.

The sandy shore is one of the main attractions of Cocoa Beach. The beach, along with the weather, brings many people to the area. Many arrive initially as visitors and eventually settle there.

Just six miles long and less than one mile wide along most of its length, Cocoa Beach is known as the surfing capital of the East coast with ocean beachfront running almost the entire length of its city limits.

Fishing, surfing, boating, sightseeing, shopping, excellent dining, golfing, nightlife, and cruises are just a few of the many things to do in the area. The Space Coast is the place to visit the Kennedy Space Center),to go deep sea fishing, surf, windsurf, rent a jet-ski, swim in the crystal clear waters, and take a river tour to have a look at the Florida gators, panthers, sea turtles and other awesome wildlife. Or you can drive the short distance to Orlando, and visit Walt Disney World, Sea World, Universal Studios, and other Central Florida attractions. Dinner will be waiting in Cocoa Beach at one of the many dining spots on the beach, ranging from elegant to casual. After dark, enjoy the nightlife activities from cool jazz clubs to beach side cafes.

The Space Complexes of the Kennedy Space Center and Cape Canaveral are situated to the north, and Patrick Air Force Base is to the south. Cocoa Beach is just minutes from Florida's fastest growing port : Port Canaveral, offering world class cruise terminals, affordable cruises to exotic Caribbean destinations, and day cruises aboard casino ships. Deep-sea fishing boats and day sails are also available. Merritt Island with its Wildlife Refuge is close by.

Where else is it possible to choose whether to watch a space launch from the beach or to observe a wide range of marine and bird species in their natural habitats? Or to opt for a swim in the ocean, a quiet kayak exploration off the Banana River islands, a round of golf at the 27-hole golf course, surf casting from the beach for dinner, or just a day at the beach watching dolphins at play and watching for a whale in migration.
Of course, the primary attraction to Cocoa Beach is the weather. With its coastal location and positioning between sub-tropical and temperate zones, the weather is amazingly stable year round. This location attracts wildlife indigenous to both climatic zones as well as coastal and migratory species. So, bring your binoculars!

The city enjoys an average temperature of 61 F in January and 81.6 F in July and August, making any time of year beach weather.

While strolling on the beach, many visit the historic Cocoa Beach Pier. Stretching 840 feet over the Atlantic, it features a wide array of restaurants and shopping.

Whether you are just thinking about visiting Cocoa Beach or you have been here before and are planning a return visit, this small beach community welcomes you with great fun and a wide variety of activities, any time of year. With Orlando, Titusville, and Melborne nearby, there are additional opportunities for exploring more of the Sunshine State.

Whether traveling to the Cocoa Beach area for a family beach vacation, Spring Break, leisure travel, a weekend getaway, or just a day trip, you'll find everything you need to make your visit one to remember.
Search for your Hotel
Choose your lodging below
Select your Accommodations below.
Hotel Reservations by hotelroomdirectory.com © Copyright 2006
Best Value Hotel Rooms